The practice of threading has gained popularity over the last few years as being a good option for hair removal. Although effective, threading may sometimes have negative side effects associated with it.
Side effects cause by threading include hyperpigmantation (darkening of the area around the threaded area) and folliculitis or acne-like lesions. In the case below the woman has a dark area right around the right side of the mouth and small white lesions that look like whiteheads where the hair was removed.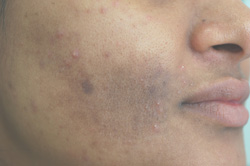 For example, those that are prone to acne may develop lesions shortly after their treatment. Others may experience folliculitis which appears as small, scattered whiteheads or closed comedones. There are also published case studies wherein some patients experience warts from Human Papilloma Virus (HPV). Because threading (or waxing) can be traumatic to the skin by causing microscopic tears in the epidermis, opportunistic infections may develop. It is also not unusual to see a darkening to the skin in the areas being waxed or threaded in response to the irritation. In addition, keep in mind that the person performing the threading will often use their mouth during the process by pulling on the thread. This is not the best practice considering the germs that are harbored in our mouths.
A much safer, permanent laser hair removal option is class IV medical lasers. Regardless of which hair removal method you choose, be an informed consumer by doing your research and observe the facility for clean and safe practices.
---