We often get questions form African American patients about black skin laser hair removal. Common misconceptions about black skin laser hair removal are that the skin will be burned or that it cannot be treated because it is dark. This is categorically untrue. There are lasers and other light devices that can be very risky to use on dark skin, but providing the correct laser technology is used, the procedures are no more and no less safe than for lighter skinned laser hair removal patients.
The laser we use at Celibre Medical for black skin laser hair removal is the Sciton Profile. The brand of the laser (Sciton) is not as important as the type of laser. The Sciton Profile uses a long pulsed Nd:Yg (or Yag) laser for black skin laser hair removal. This particular type of laser is used because the physical properties of the light allow it to penetrate more deeply into the skin than other hair removal devices and at the same time bypass any damage that could be caused at the surface of the skin.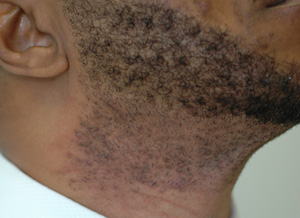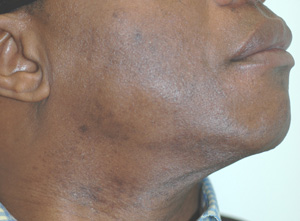 Before and after pictures of black skin laser hair removal
The challenge with any practitioner performing black skin laser hair removal is that the color of the skin is somewhat close to the color of the hair and because of the lack of contrast between the skin color and the hair color, this procedure may be more challenging in that more treatments may be required to achieve the same reduction of hair as in lighter skinned patients. At Celibre Medical, it's not about whether or not we can safely and effectively perform black skin laser hair removal, rather it's about how many treatments it will take to get results. In some cases, African American laser hair removal patients may require more treatments to achieve the same laser hair removal results as lighter skinned patients.
Lori Haney, RN, MEP-C
Certified Medical Laser Safety Officer
---