Overview | Treatment | Before and After Pictures
To achieve permanent laser hair removal (where this term represents 75%-95% reduction of the hair in 6-8 treatments), the base of the hair follicle has to be heated to a level where the blood vessels that connect to the base of the hair follicle are damaged. This process usually involves some level of discomfort. There are methods to lessen the discomfort level during laser hair reduction with cold gels, numbing creams, and cold air blowers; however, to some extent discomfort is part of the process. If a patient experiences absolutely no discomfort or sensation, we would question the efficacy of the treatment/technique.
Currently, the FDA requires that manufacturers of lasers used for laser hair reduction are able to substantiate (via clinical trials) that their product is "pain free" or "painless laser hair removal" before they are able to advertise that. There is one manufacturer currently advertising that their laser is pain free, but they have not applied for nor received FDA approval to substantiate this claim.
Most patients that have undergone waxing will generally say that laser hair removal is far less uncomfortable than waxing. Because this type of service is the most requested and performed procedure with regards to lasers – it is safe to assume that most patients do quite well. Because each individual responds differently, discomfort levels will vary between patients. However, this concern is very common and understandable for those beginning treatments. We encourage all of our patients and consumers to make inquiry about which technology will be used and what the expectations are. Ask your practitioner about appropriate comfort measures. A good practitioner will take your concerns into consideration.
Los Angeles Laser Hair Removal Program Before and After Photos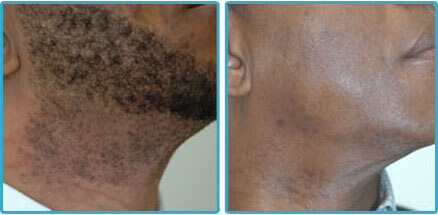 Type of Laser Hair Removal
Hair Removal Links
Preferred Methods of Hair Removal
Questions About Laser Hair Removal
What Can I Expect from Laser Hair Removal?
Is Laser Hair Removal Permanent?
How Do I Choose a Hair Removal Specialist?
Contact us today for more info on this question, "Is laser hair removal painful?"