Because Restylane treatments involving injections of hyaluronic acid fillers (ex: Juvederm, Restylane, Perlane) are minimally invasive, there is typically no downtime associated with these procedures. However, there may be what is considered "social downtime" if bruising or swelling is a side effect of the Restylane injections. With early intervention such as cold compresses and a little bit of makeup, these side effects should not be cause for major concern. On the other hand, if one is planning a special event, it would be prudent to perform the Restylane injections at least 2 weeks prior or wait until after the event has passed.
Read About All Celibre's Facial Shaping Techniques
Celibre Orange County Botox, Restylane, Juvederm and Perlane injections visit www.celibre.com/wrinkles.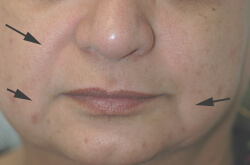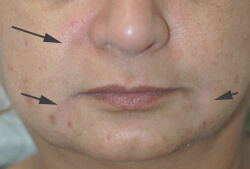 Restylane around the mouth. More Orange County Restylane before and after pictures, celibre.com/restylane-injections-before-after-pictures-photos.
Lori Haney, RN, MEP-C
Certified Medical Laser Safety Officer
---