Steroid Injection Side Effects
At Celibre, we see all types of injuries and unique concerns. A female patient came to us after having had a steroid injected into her cheek for the removal of Juvederm. While steroids are not normally used for the removal of a Hyaluronic acid based filler, this patient claimed that the physician she went to injected steroids to remove the Juvederm. In the process, the patients cheek was atrophied and this resulted in a sunken area.
Restylane Lyft (Perlane) to Add Volume for Sunken Cheek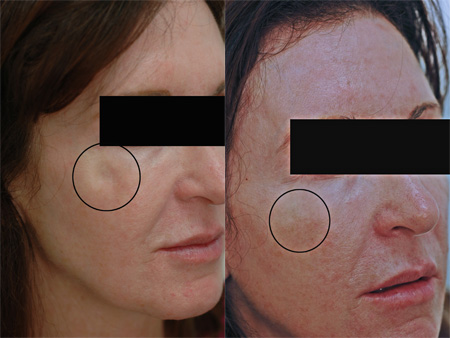 To remedy this issue, we used Perlane (Restylane Lyft) injections to smooth the surface of the skin. Perlane is a thick dermal filler that is commonly used in the cheeks so it is a perfect fit for this concern. We used 1 CC of Restylane Lyft injected directly under the depressed scar area and this created a much smoother appearance.
For more information about Restylane Lyft (Perlane) injections in Los Angeles, contact us for a free consultation.
---