We all realize that our chronological age coincides with the aging process. This hard reality is what drives a multi-million dollar industry in products and procedures.
Although we accept aging as a natural process, it is involves many factors and influences. For example, there are "extrinsic" and "intrinsic" aging factors. Extrinsic aging factors are what affect us from our outside environment. This would include lifestyle factors – sun exposure, pollution, smoking, etc. Some researchers now propose that marital status, stress, and depression are significant extrinsic factors with the aging process as well.
Intrinsic factors (inside) for aging refer to a genetic predisposition for disease as well as how hormones affect the body. This may explain why it is now recognized that Asian smokers have a higher predisposition for facial lines and wrinkles than non-Asian smokers. I would even suggest that stress, depression, and such have a hormonal role that may also be considered intrinsic factors as well as extrinsic.
Laser Treatments for Age Spots
Laser Age Spot Removal Free Consultations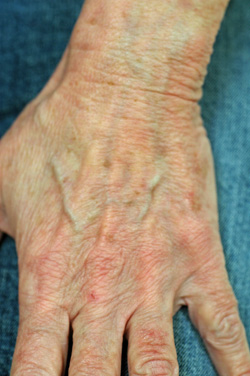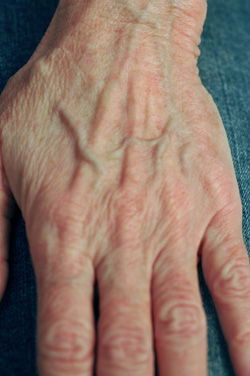 Age Spot Removal Before and After Photos
Most of us that would take the time to read this have already been motivated to try and modify, halt, slow down, and reverse the aging process. With that said, it is now formally recognized by scientists that the number one extrinsic aging factor is photo-damage. Quite simply, UV sun exposure. We all know the benefits of sunscreen, but many of us don't give this the attention it deserves.
Whether we age gracefully/gracious or fight it every step of the way…don't underestimate the benefits of daily sunscreen. Remember, UV exposure occurs even on a cloudy day. Broad spectrum (UVA/UVB) protection is the most cost effective and easiest anti-aging treatments one can participate in!
Lori Haney, RN, MEP-C
Certified Medical Laser Safety Officer
---