The term "razor bumps" is often used to describe a condition also known as pseudofolliculitis. For men and women alike that have very coarse, thick and/or curly hair razor bumps can be an irritating and frustrating condition. Razor bumps show up with irritation and inflammation of the hair follicles in its mildest form. In some cases, the facial hair follicles may become infected and develop large, acne-like cystic lesions that can lead to deep scarring.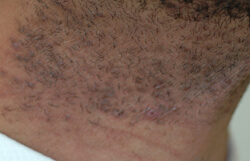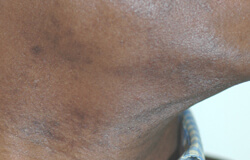 Remove razor bumps with laser hair removal
More before and after pictures
Often, razor bumps patients are misdiagnosed as having acne when, in fact, they actually have ingrown facial hairs that lead to the bumps. Razor bumps can be found in many areas of the body including the lower part of the face, front and back of the neck, shoulders, bikini and back area. The razor bumps lesions are tender to the touch and usually represent a cosmetic dermatology concern (rather than a health issue) because they cause discoloration and texture (bumpy) changes to the skin. Although razor bumps (pseudofolliculitis) may be managed, the only real resolution is through laser hair removal. Class IV medical lasers for laser hair removal are safe and effective for all skin types when using the correct laser technology administered by a trained practitioner. By performing facial hair removal treatments with lasers permanently remove unwanted facial hair and eliminate razor bumps.
Lori Haney, RN, MEP-C
Certified Medical Laser Safety Officer
---