Besides the frown lines (vertical lines between the eyebrows) the forehead lines (horizontal wrinkles in forehead) are also a very common area to treat with Botox injections. What may seem like a simple, one size fits all procedure is actually a treatment that requires good technique to get great results.
As we age, our brows and upper eyelids rely on the forehead muscle to keep the area elevated and supported. If the correct amount of Botox is not used in the forehead you can get too much lift or too little, which can result in a very unappealing look. Too much Botox for the forehead and the patient experiences a heaviness of the eyelids and eyebrows and has little or no ability to animate (move their forehead muscles up). Too little Botox or a lack of proper technique for injecting the right amount of Botox into each muscle can result in asymmetry (uneven looking brow or eyelid lift).
So what should be taken into consideration when injecting Botox for the forehead? Gender, ethnicity, age, muscle mass, permanent/tattooed eyebrows, patient goals, and a critical eye for a natural, individualized treatment plan all play a part in dosing Botox for the forehead. Our faces are designed to animate (move). A good Botox injector will understand this and will know how to soften and enhance all of the correct areas while not using too much or too little Botox.
Botox browlift before and after pictures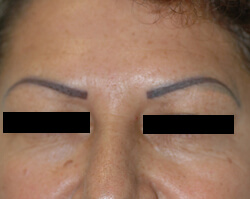 NOT A CELIBRE MEDICAL PATIENT. PATIENT WAS INJECTED BY ANOTHER PHYSICIAN WITH 50 UNITS OF BOTOX FOR THE FOREHEAD RESULTING IN BROW AND EYELID DROOP.
In the case to the left, the patient had 50 units of Botox injected by another physician before coming to Celibre. This Botox for the forehead resulted in a heavy, tired look with the patient's eyelids and brow drooping and resting almost entirely on the bone above the eye orbit. This certainly smoothed the horizontal forehead lines, but left her with much too much droop around the eyes. Botox injections for a forehead usually do not require more than 20 units and most times require much less than that. When using 50 units in the forehead, there is no way to simultaneously create a smoothing of the forehead wrinkles and at the same time create the chemical brow lift discussed in our other blog article, Botox Brow Lift.
Lori Haney, RN, MEP-C
Certified Medical Laser Safety Officer
---