This photo below shows a challenging patient for keloid scar removal. The patient developed a large keloid scar (9 yrs ago) to lower cheek related to cystic acne. He first treated the keloid with plastic surgery. The surgeon detailed the risks involved with surgical keloid scar removal, which included the fact that it could come back.
Los Angeles keloid scar removal treatments – celibre.com/scars.
Schedule a free keloid scar removal consultation at www.celibre.com/contact-list.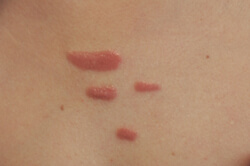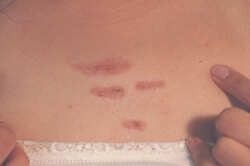 Los Angeles scar removal before and after photos – celibre.com/scars-laser-removal-before-after-pictures-photos.
After surgery, the keloid returned immediately and began to grow larger than it was previously. The patient's dark skin type limits options; however, the Cynosure V-STAR laser is appropriate. In keloid cases like these, the V-star is the most appropriate laser to decrease the vascularity of the scar, decrease blood flow and shrink the size.
The patient's treatment plan includes V-star pulsed dye laser treatments (with mild to moderate bruising) combined with steroid injections in between laser treatments. With keloid scar removal, the response is highly variable and patients have to be prepared for the fact that the keloid may not shrink. As opposed to plastic surgery, though, the scar should not get any larger with laser treatments and injections.
Lori Haney, RN, MEP-C
Certified Medical Laser Safety Officer
---