Many times consumers have asked us about the difference between our Cosmelan MD topical program and TriLuma for Melasma. Both products are known to treat many pigmentation conditions such as melasma, sun damage, and brown acne scarring.
TriLuma has three active ingredients – a topical corticosteroid (reduces inflammation/redness/swelling), hydroquinone (fades pigment), and tretinoin (which removes the outer dead skin cell layer and helps the other ingredients penetrate). This product is based on the theory that there is an inflammatory component to the non-curable condition of Melasma. Although many consumers have had success with this TriLuma, it is quite expensive ($160 to over $200) and can be irritating to the skin because of the ongoing use of the tretinoin. In our experience, many consumers with medium to darker skin types have been unable to tolerate this treatment, and in many cases, their condition has worsened.
Celibre Medical Los Angeles Melasma Treatment
Los Angeles Melasma Treatment Free Consultations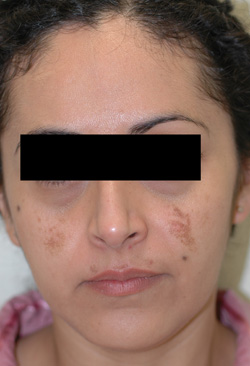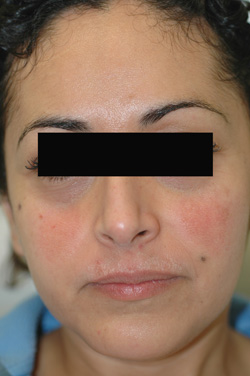 Melasma Treatment before and after pictures
Cosmelan MD has many effective ingredients with the main active ones being Retin-A and hydroquinone, which are essentially the same two ingredients as are contained in TriLuma. For this reason, a commonly question asked by our patients is how Cosmelan MD and TriLuma are different. They ask "Why should I try Cosmelan MD if TriLuma didn't work for me?". This is an excellent question and one that has some obvious answers and other that may be more subtle. The most glaring reason to try Cosmelan MD is that the % of Hydroquinone in Cosmelan MD is higher than in TriLuma (4% for TriLuma vs. 8% for Cosmelan MD). This in and of itself is very important as the most important depigmentation active ingredient is twice as strong in Cosmelan MD as it is in TriLuma. In addition to this obvious difference, the chemical makeup of the two products is very different with Cosmelan MD also containing other depigmentation agents besides Hydroquinone.
Finally, we know from our acne treatment programs that some of our patients have responded well to doxycycline and not well to minocycline before coming to see us, something that is confusing given the similarity of the two drugs. Even when two drugs or treatment programs are very similar the outcome they produce may be very different. Most of our Melasma patients have tried hydroquinone based programs in the past before coming to us and we understand the frustration that has led them to the point where they come see us for another alternative.
Unfortunately, there is no cure for melasma, and the condition is considered chronic but may be – not only improved – but managed. Finding the right "recipe" may be a frustrating journey for this emotional pigmentary condition. However, knowing what options are available is a good starting point. Make certain your practitioner involves you in the treatment plan, knows your history of tried and/or failed modalities, monitors your progress, and equips you with the right knowledge to manage your condition. While there is always a possibility that the Cosmelan MD program will not work, it is one more option for our Melasma patients that are eager to find another alternative.
Lori Haney, RN MEPC
Medical Laser Safety Officer
---