Overview | Treatment Program | Before and After Pictures | Laser Acne Scar Removal Costs & Prices
---
The cost of Acne Scar Treatment varies based on the number type of treatment.  The cost of procedures will also vary from practice to practice.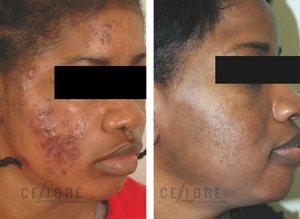 We have multiple acne scar treatment options such as bleaching products for dark scars, laser resurfacing for textured scars, injections for wide indented scars and pulsed dye lasers for red scars.  All of these have different price points and generally a treatment program ranges from a couple hundred to several thousand dollars.
When choosing a practice to treat your acne scars, there are several other factors to consider including the price or cost. The experience of the practice, similar before and after pictures and a broad range of laser technology will all factor heavily in the result.
While the results are not directly correlated with the costs, choosing a practice based solely on the cheapest service may be a mistake.
For a free consultation to determine the exact cost of your acne scar treatment program, call today.
Types of Acne Scars
Laser Acne Scar Treatment Before and After Photos
Visit our acne scar removal before and after picture gallery
and see the results that were achieved for other patients.
Contact Celibre today and get the best value and results from your treatment!