Cherry Hemangioma Laser Treatment Overview | Treatment Program | Before/After Pictures
Are you asking yourself what those small red mole-like bumps on your face, neck or skin are? Not sure what they are or how to get rid of them? Well, they may be cherry hemangiomas and if they are, Celibre has a laser solution for you.
Cherry Hemangiomas are small mole-like vascular malformations that can appear on the face and neck but are normally more prevelant on the body. Cherry Hemangiomas are a made up of a concentration of microscopic blood vessels grouped very closely together at the surface of the skin, they can appear on any part of the body, but are most commonly found on the torso. It is not known what causes cherry hemangiomas.
At Celibre, we safely treat cherry hemangiomas using pulse dye or yag lasers. Our lasers close the superficial blood vessels that make up cherry hemangiomas causing those irregular blood vessels to recede back below the surface of the skin.
During treatment, the energy of the laser is absorbed by the hemoglobin in blood, causing the tiny vessels that create the redness to close. Abnormal blood vessels are then absorbed into the body allowing your skin's natural color and tone to show through.
Most patients that get cherry hemangiomas notice that they tend to appear more frequently as they age. They appear in all races and both sexes. They can be heavily concentrated on the chest back, neck or even scalp. Cherry hemangiomas do not pose a health risk and are normally treated as a cosmetic condition.
When you visit Celibre, our knowledgeable and professional medical staff will answer any additional questions you have regarding cherry hemangiomas before suggesting a treatment plan. Contact us to schedule a free consultation in one of our conveniently located Los Angeles or Orange County offices.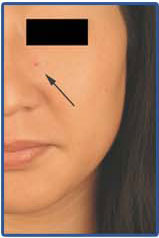 View more Cherry Hemangioma before and after pictures
Contact us today to schedule a FREE laser acne treatment consultation!