Laser Scar Removal | Treatment Program | Before/After Pictures
Cutting scars are remnants of self-inflicted wounds. For those who have performed this coping ritual, they are a source of anxiety and distress. Self-cutting is often a compulsive reaction that can lead to hundreds of scars, most commonly on the arms or legs. Long after the mind heals, the remnants of the cutting scars remain.
Not only can these visual reminders bring back the traumatic thoughts, which led to the creation of the scars, but they can also create social anxiety and distress, especially around the summer months when covering up may not be practical.
At Celibre, we have over 20 FDA approved lasers for treating a variety of scars. Cutting scars treatment can include the use of numerous lasers, such as the Cynosure V-Star, the Medlite C6, the Palomar Q Yag V and the Sciton Erbium laser. These treatments are designed to revise the color and texture of the scars.
During treatment, a snapping sensation can be felt on the surface of the affected skin. Treatments typically last between 10-30 minutes, and patients do not require extended require periods.
Cutting Scars Treatment – Before and After Photos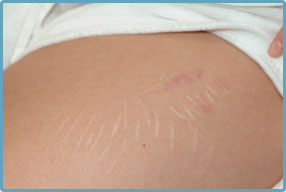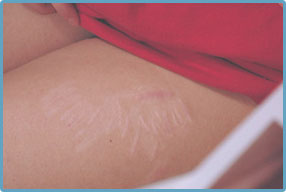 What are Keloid, Surgical & Pigmented Scars?
Causes of Keloid, Surgical and Pigmented
Contact us today to schedule a FREE consultation!