Overview | Dysport Injections Treatment Program | Before/After Pictures | Costs & Prices
Dysport Treatment Program
Dysport is a simple yet effective, non-surgical treatment that works by relaxing facial muscles and consequently reducing and smoothing frown lines and wrinkles.
At Celibre, nurses or physician assistants with extensive experience in the administration of cosmetic injections perform Dysport injections. Our staff regularly participates in ongoing education and training classes to ensure that the latest techniques are used in regard to patient treatment.
During treatment, your injector will administer small amounts of Dysport via injection into specific facial muscles, consequently relaxing them and preventing wrinkle-causing contractions.
Dysport has been used for cosmetic treatments for over 10 years. It was first developed in the United Kingdom in the early 1990s as an effective treatment of neurological and ophthalmic disorders. Over the past 10 years, the use of Dysport has been expanded greatly and thousands of treatments have been safely and effectively performed for a variety of conditions, ranging from frown lines to hyperhidrosis (excessive under-arm sweating). It has also been used for many years to treat nervous twitches and muscle spasms of the face and neck.
How Dysport Treatment is performed
Typically, several nearly painless injections are administered in the area of interest to complete the treatment. No local anesthetic is required; however, if a patient feels concerned about discomfort, a cold pack is applied at the site of the injection just prior to treatment.
The entire Dysport injection process usually takes no more than 30 minutes. Subsequent to the injections, the affected areas of the face gradually relaxes, allowing wrinkles to diminish and the skin to appear more youthful.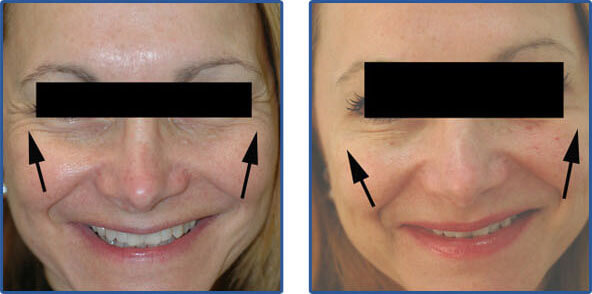 Visit our Dysport injections before and after photos
Contact us today to schedule a FREE Dysport Injections consultation!

Read About Celibre's Facial Shaping Techniques