Overview | Treatment Program | Before/After Pictures | Juvederm Injections Costs & Prices
Juvederm Price
The cost of Juvederm injections depends on the amount of the product and the quality of your injector.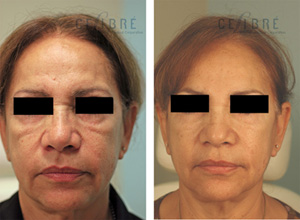 In the Los Angeles and Orange County area, the cost of a 1 cc syringe of Juvederm is generally between $400 and $1,000 with the average cost ranging from $500 to $750.
There are several types of Juvederm and they all have different prices.  Juvederm Ultra, Juvederm Ultra XC, Juvederm Ultra Plus, Juvederm Ultra Plus XC and Juvederm Voluma XC are all slightly different and have different price points.  Voluma is the most expensive and Ultra is the least.
Dermal filler injections like Juvederm are perhaps the most artful of all cosmetic dermatology procedures and thus prices vary greatly.  Most patients find a practitioner that can accomplish their goal and then stick with that injector.  Although the product is the same from practice to practice, the quality of the service can vary widely and this is also why prices vary.
What is Juvederm?     Is Juvederm safe?     Juvederm vs. Botox     Compare Dermal Fillers
Visit our Juvederm injections before and after photos

     Facial Shaping Techniques
Contact Celibre today for your FREE juvederm injections consultation!