Overview | Treatment | Before and After Pictures | Cost
Wondering about the differences between waxing and laser hair removal? You're not alone. Many people get fed up with the discomfort and irritation of waxing and opt to undergo laser hair removal treatment instead. Below, we highlight the differences between laser hair removal and waxing for unwanted hair and help you decide which option may be right for you.
Laser hair removal is a method to permanently get rid of unwanted hair. In the state of California, it is a procedure that can be carried out by only nurses and doctors. It utilizes laser (light) energy to target the melanin (pigment) within the hair shaft, which in turn delivers heat to the follicle to disable it. Lasers can be used to permanently eliminate hair on any body part, with the most common areas being arms, legs, underarms, chest, neck and the bikini.
Waxing, on the other hand, can be performed by any beautician with a cosmetology license at a day spa or salon. During a waxing treatment, the hair is ripped from the skin. As soon as it leaves the body, the follicle begins production on a new hair. Waxing lasts a matter of weeks before newly grown hair becomes visible. To reiterate the main difference between the two methods, lasers produce permanent results, eliminating hair re-growth, while waxing temporarily removes hair (several weeks).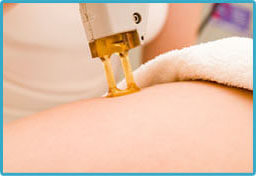 Discomfort is another significant difference between waxing and laser hair removal. With lasers, there is a feeling of pin pricks or rubber band snaps on the skin during treatment. Waxing, on the other hand, can be very painful, especially in more sensitive skin (ie pubic hair removal).
Another significant difference between laser hair removal and waxing involves the time and cost savings associated with lasers. While one waxing visit is normally less expensive than one laser hair removal treatment, the long term cost of laser hair removal is significantly lower because it is permanent. In addition, the savings in terms of a patient's time is not factored into this calculation but never having to shave again or to run to a waxing appointment is a huge time savings.
Contact us today to schedule your FREE Laser Hair Removal consultation!