The cost of laser resurfacing varies widely because the term itself "laser resurfacing" is so broad. At the high end, full face laser resurfacing with CO2 lasers may cost $4,000 – $6,000. There are several reasons for the high cost:
• The procedure is performed in surgery room setting
• General anesthesia is used
• A lot of time and effort is required by both the patient and practitioner for the recovery process.
You may wonder why a patient would pay such high costs? The reason is that CO2 laser resurfacing is still the gold standard for getting rid of deeper facial wrinkles including smoker's lines around the mouth, crow's feet and forehead wrinkles. It is the most effective treatment, bar one.
There are alternative and less invasive forms of laser resurfacing treatment, all with lower costs and less downtime that full CO2 resurfacing. These treatments include:
• Full Erbium Resurfacing
• Partial (fractional) CO2 resurfacing
• Partial (fractional) Erbium Resurfacing
• Pearl (YSGG) Resurfacing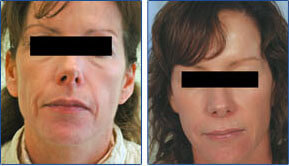 These technologies all require some recovery time, but are usually about 1/3 the cost of CO2 resurfacing. Normally they are in the range of $750 – $2000 per treatment and do not require full anesthesia. Recovery times generally vary from 2-7 days.
Finally, there are laser resurfacing techniques that do not involve any downtime. At the lower end, you have IPL type broad band light treatments that are very generic in their nature (i.e. treating brown spots, red vessels and wrinkles). At the higher end, you have laser technologies such as q-switched lasers, pulsed dye lasers and Erbium Glass lasers that can all help to generate new collagen, but generally without any downtime. These types of laser resurfacing procedures generally range in price from about $250 – $750.
Laser Resurfacing Before and After Photos
Contact us today to schedule a FREE laser skin resurfacing consultation!