Overview | Treatment | Before and After Pictures
Since the Spring of 2009 when it was launched, Latisse has become one of the fastest growing and most popular cosmetic treatments in the US.  And one of the reasons is that it can help make one of your most important assets  – your eyes – look brand new for a fraction of the cost of most cosmetic treatments.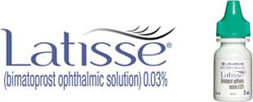 Although you may not know it, Latisse is a prescription product.  So, when it comes to the cost of Latisse, one of the hidden expenses (for medical practices) is the time spent on the initial exam to qualify a patient for its usage.  Legally a doctor, a nurse practitioner or a physician assistant must perform the initial exam.  The reason the exam is so important is that there are some potentially serious side effects associated with the product and your practitioner should review these with you before you start using it.
When it comes to the cost of Latisse, it's always surprising to us that consumers are still purchasing over the counter products like Revitalash.  Given that the cost of Revitalash is the same or sometimes even more than prescription Latisse, we don't understand why anyone would use it.  The patient reviews for Latisse have been stellar and anyone that has tried it for a full 12 weeks has been extremely happy with it.
Depending on whether or not you are charged for the initial office visit (to qualify you for the prescription) we have found that Latisse is usually priced between $100 and $200 per vial.  In cases where it is sold below $120, there is usually an introductory price incentive and then a higher price next time around.

Visit the Latisse Eye Lash Enhancement Treatment before and after photo gallery
Contact us today to schedule a FREE Latisse consultation!