Treatment Program | Before and After Pictures | Cost
Latisse is the first and only FDA approved prescription treatment for longer, fuller and darker eye lashes. It is a liquid serum that is designed to naturally and rapidly grow the length, fullness, and prominence of eye lashes. By directly applying the serum to the hair line on the upper eye lid with a small brush, users will see the eye lashes become longer and fuller in a matter of weeks, with significant and lasting differences becoming evident after a couple of months. Latisse is made by Allergan, a leading manufacturer of numerous and widely used cosmetic products in the United States, including Botox.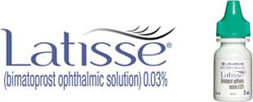 Get the eye lashes you've always dreamed of with Latisse. Safe and easy to apply, Latisse can give you the dramatic lashes you desire without false lash extensions or sticky, clunky, and pricy mascara.
After several months of treatment, you will enjoy the freedom and security of never worrying about eye make-up again. Regardless of your activities – swimming, showering or even crying – you'll never have to deal with the inconvenience of running mascara or clumping, unnatural and overdone eye lashes. Visit our Latisse reviews page.
Latisse was originally used as a treatment for glaucoma and contains bimatoprost, the same active ingredient as is used in the treatment of glaucoma. During glaucoma treatment, patients discovered a noticeable growth in the length, color and fullness of the eyelashes. Since this discovery, Latisse has been adopted for cosmetic purposes and used to the satisfaction of hundreds of thousands of patients worldwide.
The color, volume and length changes seen on Latisse will reverse if you stop using the product. If you decide to cease using Latisse, the eyelash growth that has been experienced will recede over a period of about 8 weeks.
The costs of Latisse can vary by area, however, it is most commonly sold for around $120 per bottle. The price also varies on whether or not the physician charges for the initial exam as this is required to provide the prescription.
Latisse should not be applied to any areas of the skin that are irritated or inflamed. Make sure you allow for a healing period after having any microdermabrasion procedures or permanent makeup procedures. During initial product trials, side effects were witnessed in about 4% of the individuals using Latisse.
To find out if Latisse is right for you and to obtain a prescription, contact Celibre today. We offer a free consultation, where you can learn about the product and have any additional questions answered. Don't wait to get beautiful lashes – make an appointment today!

Visit the Latisse Eye Lash Enhancement Treatment before and after photo gallery.
Contact us today to schedule a FREE Latisse consultation!