Overview | Before and After Pictures | Cost
During Latisse treatment, patients will first begin to see changes in the length of the eyelashes. Shortly after the initial results are witnessed, the thickness and darkness of eye lashes will begin to change, with each lash gradually growing in thickness and prominence. Full results are witnessed at approximately 16 weeks into the treatment. At that point, discuss ongoing use with your doctor as you may be able to maintain your results with less product. Completely discontinuing the use of the product will result in the recession of the newly grown lashes and they will revert in appearance to the same size and length seen before beginning treatment. Reduced frequency of use is recommended to maintain the effects of Latisse treatment.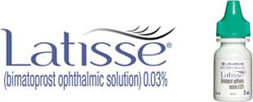 Patients should be careful to apply Latisse only on the upper eye lash and avoid getting any product directly in the eye. A single drop of the serum is sufficient per lash and should be applied nightly.
A possible side effect of using Latisse is the discoloration of the eyelid or the iris, which is the colorful part of the eye. The solution can also cause irritation and redness of the eyes during the initial week or two of treatment. These side effects are likely to dissipate as your skin gets used to the solution.
Often, patients with permanent makeup on the eyes, such as permanent eyeliner wonder if Latisse is safe to use. The answer is that it is in fact safe for such patients, and the use of the product can actually enhance the desired cosmetic effect.
Contact us today to schedule a FREE Latisse consultation!


Visit the Latisse Eye Lash Enhancement Treatment before and after photo gallery.