Overview | Treatment Program | Before and After Pictures
The Latisse reviews are in and patients love it!  The fact that we've never had a patient return a vial of Latisse says it all.  Of all our patients that have used Latisse for 12-16 weeks as recommended, we have not had one that is disappointed with the results.  In fact, we recently had one happy patient state that she had to stop using the product as much as she was (once daily) because her eyelashes were so long and full that they were interfering with her glasses.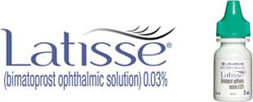 The reason that the reviews for Latisse have been so positive is that the product just works really well.  While there is variability with many cosmetic treatments, Latisse is not one of them.  It has become one of our most beloved products because of the consistency of the results.  Latisse works so well in fact that many patients have already started "off label" (non FDA-approved) usage of the product to grow thicker eyebrows.  While we don't know if patient satisfaction for this off label usage is quite as high as for the eyelashes, we do know that the Latisse reviews for eyebrow enhancement are still very positive.
The only patients that we have ever spoken with that have not given Latisse top reviews are those that were uninformed about the need use the product consistently for 12 weeks at the outset.  Many medical practices sell a vial of Latisse without setting the expectation that 2 vials are necessary to achieve complete eyelash thickness, color and length.  If a patient does not know this it's possible they would only use one vial and then give Latisse a poor review.
Contact us today to schedule a FREE Latisse consultation!


Visit the Latisse Eye Lash Enhancement Treatment before and after photo gallery.