Overview | Treatment | Latisse Before and After Pictures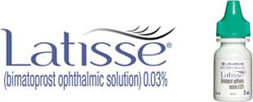 Latisse is an amazing product and our patients that have used it consistently for more than 12 weeks love it.  The main ingredient in Latisse is bimatoprost, which has been used for many years to treat glaucoma and manage eye pressure issues. While using it to treat glaucoma and eye pressure issues, doctors noticed that it led to hair growth in the eyelashes.  And thus, Latisse was born.
Latisse is a drug and just like any other drug, there are potential side effects and you should consult your doctor's office before starting usage.
If you have a history of eye pressure problems, you may not be a good candidate for Latisse as the product may affect your eye pressure.
Latisse can cause redness, itching or irritation around the application area.
Some patients may experience darkening of the skin (hyperpigmentation) around the application site.  This has most often been associated with over-usage.
There have been cases of discoloration of the eyes.  The discoloration was only reported with the use of bimatoprost in the eye rather than on the lashes.  In addition, only patients that had brown coloration in their eyes already experienced the darkening
Contact us today to schedule a FREE Latisse consultation!


Visit the Latisse Eye Lash Enhancement before and after photo gallery.