Overview | Treatment | Before and After Pictures | Cost
The latest advance in resurfacing procedures – fractional laser resurfacing – allows our practice to minimize the downtime associated with traditional CO2 laser resurfacing and at the same time achieve excellent results for fine lines and wrinkles, acne scars and uneven pigment.
Fraxel and the Sciton Profractional are leading lasers with the fractional laser resurfacing category. The Sciton Profractional uses the Erbium laser, a wavelength of light highly absorbed by water, to closely replicate the results of traditional CO2 resurfacing. But because we only resurface between 5% – 44% of the skin, the healing time is much less. Healing time with traditional CO2 resurfacing was often 2-3 weeks whereas our most aggressive fractional laser treatments only require about 4-7 days for the recovery.
Because this procedure does involve the ablation of skin tissue, there can be discomfort. We do our best to minimize discomfort by using full face numbing cream, dental blocks (lidocaine injections) and prescription pain medications. The first several days of recovery, there can be dryness, irritation, redness and peeling. After the 4th day, the skin is typically completely healed. Redness may persist for a short period after the 4th day and can last up to 1-2 weeks. Sun exposure is strictly limited and sunscreen required during the healing period.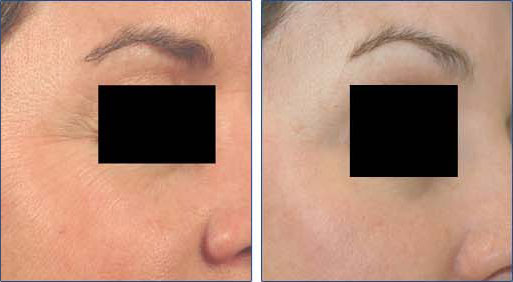 View More Fractional Laser Resurfacing Before and After Pictures
Read our top Wrinkle Prevention Tips and Better Than Botox pages.
Contact us today to schedule a FREE laser skin resurfacing consultation!     

Laser Resurfacing

Chemical Peel vs. Laser Resurfacing
Top Laser Resurfacing Treatments
Celibre Treatment Plan