Radiesse Injections Overview | Treatment Program | Before and After Pictures | Costs & Prices
Radiesse Injections
Formerly known as Radiance, Radiesse is among the latest FDA approved anti- aging injection treatments. Radiesse is a non-surgical cosmetic treatment for wrinkles similar to Juvederm, Restylane, and Perlane. Scientifically designed to smooth out signs of aging associated with wrinkles and creases, Radiesse is a deep dermal filler injection, which can be administered in several key trouble areas including the cheeks and laugh lines at the sides of the nose.
Although this particular cosmetic procedure requires only minutes to accomplish, the facial rejuvenation is immediately noticeable and long lasting. All it takes is a few injections of Radiesse wrinkle filler to fill lines and folds, stimulating the production of new collagen for a more natural looking anti aging skin injection treatment.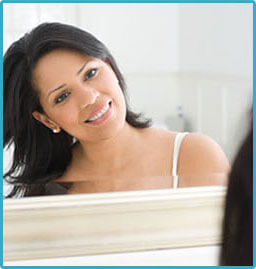 Aside from the potential for some minor and short-lived swelling or bruising, the side effects are minimal.  Swelling usually subsides within the first 24 to 72 hours of treatment, but bruising has the potential to last longer. In most cases, Radiesse lasts between 9-12 months. It is no wonder Radiesse is quickly becoming the natural choice for preserving youthful looks amongst the 30-60 year old demographic.
As a dermal filler, Radiesse is both biodegradable and non-toxic. Radiesse injections contain a compound consisting of calcium hydroxyl apatite (CaHa) microspheres that are suspended in a carboxymethyl cellulose gel. These calcium hydroxyl apatite particles are rich in calcium and phosphate ions, which happen to be naturally occurring in the human body. The gel itself is composed of an organic compound of carbon, hydrogen, and oxygen as well as glycerin and sterile water. Because these minerals and elements are naturally occurring within our bodies, the likelihood of an allergic reaction to the injection is drastically reduced.
Once Radiesse is administered, the surrounding facial tissue surrounds and adheres to the microspheres thereby providing a permanent supportive foundation for a longer-lasting anti aging skin treatment.
In non-medical terms, we like to describe it as a scaffold that adds support and structure in areas of the face that have lost volume.
Amongst the multitude of anti aging skin treatments, Radiesse is considered one of the lowest-risks. Radiesse is also the only dermal filler in the United States with two FDA-approved facial indications.
Radiesse negates the most tell-tale signs of aging in these key areas:
• The upper cheeks tend to lose volume as we age.  Using Radiesse, we can build up this area to bring more volume to the upper face, creating better balance with the lower face.
• Marionette lines are creases that run downward from the corners of your mouth that have a tendency to make you look like you are frowning even when you are not.
• Smile lines, also known as nasolabial folds, run from the outside of the nose down to the corners of your mouth. As you get older and your body decreases its production of collagen, these lines can get deeper and heavier, giving you an older, more worn out appearance.
• Oral commissures are intrinsically linked to marionette lines. As collagen production decreases with age, the volume of your lips depletes leading to deepening marionette lines.
• Pre-Jowl sulcus is the area located on either side of your chin. Volume loss associated with aging results in a hollowing of this area. Whenever you smile, the surrounding skin around your mouth sags to give your chin jowl formations.
Radiesse is fully equipped to address these issues by doing more than just filling in these trouble areas. Radiesse injections also stimulate the natural production of collagen in your facial tissue making for longer lasting benefits.
Possible Side Effects of Radiesse Injections
Side effects are considered minimal with swelling around the site of the injection being the most common. Bruising is possible but in most cases resolves within a few days after the injections. Those considering Radiesse injections should exercise caution when choosing a practitioner. A properly trained and skilled practitioner will minimize any side effects associated with dermal fillers.
Cost vs. Frequency of Treatments
Radiesse can cost between $450 and $650 per injection (depending on the size of the syringe used), but the long lasting effects are well worth the investment. Aside from the support and structure improvements that differentiate it from Restylane, Juvederm and Perlane, the primary benefit of Radiesse is that it lasts longer, anywhere from nine to twelve months. Save for some minor swelling, the creases and wrinkles targeted by Radiesse are visibly improved immediately after the injection has been administered.
At Celibre, we take pride in offering our patients a wide variety of anti aging skin treatments. We also highly encourage our patients to become active participants in their own health care choices. Radiesse is but one of many dermal filler injections used at Celibre for facial shaping and to boost collagen production, volume and elasticity. If you're interested in finding out more about Radiesse injections, feel free to contact us for a free consultation today.
Contact us today to schedule a FREE Radiesse Injections consultation!


Visit our Radiesse injections before and after photo gallery
Read About Celibre's Facial Shaping Techniques