Having second thoughts about your tattoos? It is estimated that nearly 50% of the individuals who get tattoos later regret them. Whether it's a symbol that loses meaning, a youthful act of rebellion that has long been outgrown, or simply a matter of propriety, tattoo removal is a fairly common treatment in our practice.
A tattoo is made by inserting pigment into the dermal (deeper) layer of the skin, through small pinpoint ruptures in the skin's top layer. Because tattoos are meant to be permanent, tattoo removal is a difficult and lengthy process. The duration of treatment and degree of success varies on tattoo color, size, location of the tattoo on the body, the individual's ability to heal, the method by which the tattoo was initially applied, and the length of its life on the skin. A tattoo that was placed by an experienced practitioner would likely be easier to remove, since the ink was likely evenly injected (on the the skin). Moreover, there are many different types of inks available and tattoo removal varies for them all.
Laser tattoo removal works by producing short "pulses" of light which passes harmlessly through the skin's top layers. In tattoo removal, this light is targeted to be absorbed directly by the actual tattoo pigment. The energy from the laser breaks up the tattoo pigment into smaller fragments which can be removed by the body's immune system. Extensive testing and advances in technology have allowed researchers to determine which wavelengths of light are optimal in tattoo removal, as well as how to most deliver the laser's energy to best remove tattoo inc.
Note: The tattoo removal laser does not damage the healthy skin surrounding the tattoo – it affects only that tattoo pigment.


How is a tattoo created?


How long do tattoos last?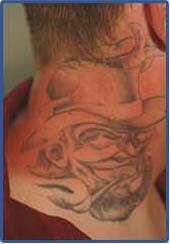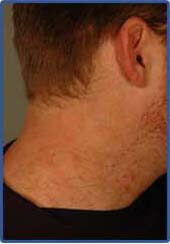 View more Tattoo Removal before and after pictures

     See Our Tattoo Removal Lasers
Contact us today to schedule a FREE Laser Tattoo Removal consultation!     

Contact us now or come to one of our conveniently located offices for a free tattoo removal consultation. Our professional and courteous medical staff will take the time to make sure that you completely understand your condition and the laser tattoo removal treatment program. Instead of covering up those unwanted tattoos, come to Celibre Medical Corporation and let us eliminate them for good.