Treatment Program | Before and After Pictures
At Celibre we understand how difficult it can be to have a port wine birthmark. We have had many patients share with us their difficulties in living with a port wine birthmark. We've been told about how hard it is to explain their birthmark to others that have never seen one. We've been told by females especially how hard it is to cover with makeup and all the efforts they have made to try and conceal it.
We realize that your birthmark can make you feel self conscious and we are committed to helping you eliminate it with laser treatments. That's why we use only FDA-approved pulsed dye lasers to treat vascular conditions like port wine birthmarks.
Plain and simple, port wine stains are difficult to treat. But with the correct laser (we use the Cynosure pulsed dye laser), port wine stains can be removed safely and effective. Although it can be a long process with many treatments, our port wine birthmark patients all agree that in the end, when the mark is removed, it is worth the effort.
A port wine stain (naevus flammeus) is a red or purple birthmark which affects about 3 out of every 1000 babies. It is a type of birthmark made up of densely located and malformed blood vessels located at the surface of the skin.
This type of birthmark is normally present at birth as a uniform flat red, purple or pink area on the skin, often on one side of the body, usually the face or neck area.
Causes of Port Wine Stains
Port wine stains are caused by an abnormal development of blood vessels near the surface of the skin. They are not inherited and are not related to anything that the parents may have done during pregnancy.
When you visit Celibre, our courteous and professional medical staff will answer all your questions about laser birthmark removal. Our focus is on patient education so that you may be an informed participant in your care. Contact us now or come to one of our conveniently located Los Angeles and Orange County offices for a free consultation.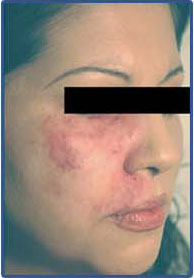 Port Wine Birthmark Removal Before and After Pictures
Pigmented birthmarks (Cafe-au-lait, etc.)
Birthmark Laser Equipment

Contact us today to schedule a FREE Birthmark Removal consultation!