Wrinkle removal is a common treatment at our Los Angeles and Orange County clinics. Hundreds of thousands of wrinkle removal procedures are performed annually in the world today. Even though fine lines and wrinkles are part of the natural aging process, they are a big cosmetic nuisance and people are trying to find ways to look younger by getting rid of their wrinkles.
Today's vast array of skin resurfacing options in the fight against aging stems from the fact that it is a fight we can win. Laser wrinkle removal is a right of our times and our hi-tech world, and leaps and bounds in equipment have brought about an arsenal of anti-aging options. The most exciting of these include advances in laser resurfacing and laser wrinkle removal technology.
We all love facials, but they involve commitment in order to achieve results. Chemical peels have their place, but they're inexact and not the best option for every skin type. Laser wrinkle removal is a precise procedure, catering to a variety of skin types. Lasting results are achieved in a small number of laser wrinkle removal treatments, as opposed to continuous appointments with many other procedures.
We offer our patients two distinct paths in pursuing laser wrinkle removal treatments at our Los Angeles and Orange County clinics. "Ablative" skin resurfacing is an aggressive choice for those with less time for appointments, but involves a 4-7 day recovery period, and the "Non-Ablative" method calls for a few more treatments, but does not disrupt your daily routine.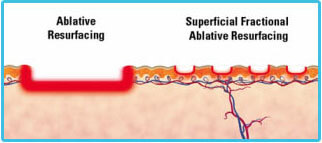 How does laser wrinkle removal and skin resurfacing actually work? Like any other exfoliating process, dead skin cells are removed to make way for younger layers and a fresher face. The key to laser wrinkle removal (as well as scar removal and enlarged pores) is collagen production. Collagen is the primary building block that makes up connective tissue. With laser resurfacing, wrinkles (or scars and other blemishes) are removed and collagen increased – encouraging new skin to fill in imperfections, resulting in wrinkle removal.
When you arrive for a laser resurfacing consultation, our experts will advise you on the best type of treatment for your individual skin type, walk you through the steps and answer any questions you might have. Don't hesitate to contact us today to find out more about laser wrinkle removal at our Los Angeles or Orange County medical clinics.
Types of Skin Rejuvenation
Laser Resurfacing for Wrinkles
Laser Resurfacing for Sun Damage
Laser Resurfacing for Age Spots
For more information on laser wrinkle removal, take a look as some of the useful links below.

See the top Wrinkle Removal Lasers

Chemical Peel vs. Laser Resurfacing
Top Laser Resurfacing Treatments
Celebre Medical Treatment Plan

Recovery after laser resurfacing
Contact us today to schedule a FREE laser acne treatment consultation!