Although we all age differently in terms of the changes that we see in our bodies and how quickly and/or when they occur, there is one thing that is true for all of us: age is inescapable! Some of us are just better at doing it than others, and many more of us refuse to go down without a fight!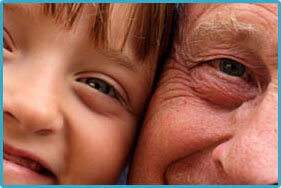 One of the most helpful things you can do to keep your skin looking youthful, supple and firm is to keep up the underlying structure and support for it. There's no area of the body where this concept is more important than the face. As we get older, the major support structure of our skin, namely collagen and elastin, start to weaken, breakdown and disappear altogether! This not only paves the way for saggy and wrinkled skin, it also creates the appearance of depressions and flatness in areas that were once round and full (like your cheeks).
Another big change that happens in our bodies as we age is the recession and weakening of our bones. This not only leads to changes in our strength and posture, but also to changes in our facial appearance. These bony changes coupled with the those in the skin itself all contribute to many of the "sunken-in" or "hollow" features that we associate with an aged face. However, these changes don't have to be permanent! In fact, by using dermal fillers such as Restylane, Juvederm and Restylane Lyft, before you can correct them and restore your appearance altogether!
Sound too good to be true? Take a look at the photos below of one of our patients who was injected with Restylane in her cheek area. She had developed a "gap" or "separation" between the area beneath her eye and her cheek. You can see this clearly in her "before" picture as a depression that runs horizontally near the upper edge of her cheek beneath her lower eyelid. By injecting Restylane in supportive "columns" in this area, we recreated the roundness and fullness of her cheek area, bridging that "gap" and rebuilding the lost support and structure for both her lower eyelid tissue and her cheek. The overall effect of this type of filler injection is to help her facial structure appear more like it did 10 or more years ago, making her look instantly fresher and more youthful with softer, more rounded features. This is just one example of how we can use dermal fillers to recreate youthful facial structure and support.
If you are interested in learning more about how this type of dermal filler treatment can help you look better, younger and more like your old self, please call us today to set up your free consultation. We would love the chance to create a filler plan to help you look and feel your very best!


* View More Restylane Injections Before and After Pictures
Contact us today to schedule a FREE consultation!