Botox Injections | Treatment | Before & After Photos | Cost & Prices
Why Get Botox Injections?
Celibre provides botox injections in Los Angeles and Orange County. Botox is the most commonly administered cosmetic treatment in the world today. That's why it is surprising how many misperceptions there are about Botox. Botox is an easy, nonsurgical injection that temporarily smoothes out moderate frown lines and wrinkles.
Botox does not paralyze the face as some of our patients have suggested. Rather, it is a highly purified protein used to relax the muscles that cause frown lines, smoker's lines, crow's feet and other wrinkles and is extremely effective at smoothing the skin around the eyes and forehead areas. Botox injections is also used for the Softening of the Jaw Line (Treatment for a Square Jaw).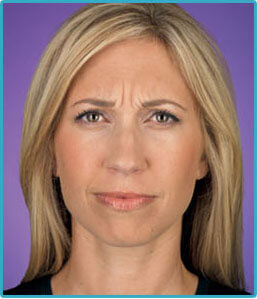 How Does Botox Work?
Botox injections deliver a tiny amount of botulinum toxin directly into the muscle, arresting its ability to contract for an average duration of 3 or 4 months. On a cellular level, the decrease in muscle activity is caused by blocking the release of Acetylcholine from the neuron. By preventing the Acetylcholine from binding to cellular membrane into which it can be released, the muscle is rendered idle.
Possible Side Effects of Botox
Botox can produce side effects, but these are rare, generally minor and of limited duration. They can be predicted by an expert dermatologist by the mode of action and the chemical structure of the molecule (this does not make sense as dermatologists cannot predict side effects?). In rare cases, Botox side effects may include one of 2 effects: paralysis of the wrong muscle group or allergic reaction. Bruising at the site of the injection can result (as a side effect of the administration of the Botox, not a direct effect of the substance). A skilled injector at our Los Angeles or Orange County clinics can usually avoid or prevent such bruising.
Because Botox has become the most common cosmetic procedure performed in the United States, standard techniques are widely known (but not always perfected). Botox injections is an excellent means of restoring a youthful appearance.
History of Botox
In December 1989, after extensive testing and rigorous review, Botox was granted federal approval by the United States Food and Drug Administration (FDA) for the treatment of muscle spasms in patients over 12 years old. Since then, it has grown in popularity and application. In the US, Botox is manufactured by Allergan, Inc., but there are multiple versions of the product developed and utilized in other countries.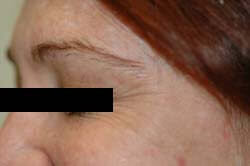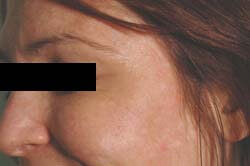 View more Botox Injections before and after pictures
The Botox Chemical Brow Lift

This brow lift uses Botox injections to relax only certain downward pulling forehead muscles. By relaxing downward pulling muscles, upward pulling forehead muscles take over, thereby creating a small amount of lift that opens the outer eye and lifts the lid. The outcome is a very natural, refreshed and less tired appearance.
Upper Lip Smoothing using Botox

Using this technique, the vertical (or smoker's lines) above the upper lip can be smoothed out by relaxing the muscles that cause these lines to be visible. Very small doses of Botox are used with or without Restylane and Juvederm to relax the strong muscle above the lip and at the same time add volume to specific areas. Combining Botox and Restylane or Juvederm in this area can can minimize or eliminate smoker's lines from view altogether.
Botox (or botulinum toxin as it's known in the scientific community) is an injectable substance that has become the most common cosmetic procedure performed by medical professionals in the United States, including Los Angeles and Orange County, CA. The substance that comprises Botox was first derived from bacteria after it has been found that it could be effectively utilized for therapeutic purposes in relieving muscular tension.
Over a period of many years, these lines (which did not exist in our youth) become more prominent. Botox injections are able to relax the very muscles that cause such wrinkles with their contractions. By restraining these muscles from contracting, the wrinkling of the surrounding skin is prevented and our faces have a smoother, more youthful appearance.
Top Reasons Why You May Want to Reconsider Cheap Botox Injections.
More Botox Links
Contact us today to schedule a FREE consultation!

Botox Los Angeles and Orange County patients can contact us for a free consultation to find out how Celibre can help you look your best. BOTOX® Cosmetic is a registered trademark of Allergen, Inc.
Read About Celibre's Facial Shaping Techniques  

  Get Rid of Wrinkles