At Celibre, we take much pride in being advocates for patients and consumers. First and foremost, we value the teaching process and believe most consumers do as well. It is not unusual for patients to come to us with very little or incorrect information on how to manage their skin condition – even when they are being managed by a dermatologist. Many describe wasting time and money on treatment methods that don't work or, as is often the case, make their skin condition worse.
One of our female acne patients was diagnosed with acne by one dermatologist and then diagnosed by a second dermatologist with "acne rosacea." For the last two years, she has been on a long, frustrating journey of harsh topical products such as retinoids, complicated skin care regimens, and a host of oral medications. She came to us with skin that was inflamed, dry, irritated, and just plain hurt. She realized that there had to be a better way to manage her skin and became intrigued with the concept of laser treatments. While laser treatments are not the answer for every patient, in this particular case, they helped immensely. What also helped was taking the time to sit down, evaluate all the products that the patient was using (from both dermatologists) and then eliminate those that were contributing to some of the problem. Without spending a good amount of time with the patient, neither physician would have been able to get the whole story that we did. The time spent on patient education makes a world of difference to our patients.
Los Angeles, CA Acne Rosacea Treatments
Acne Rosacea Free Consultations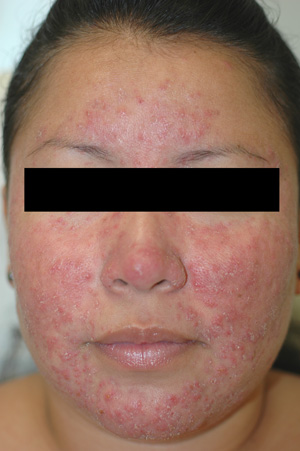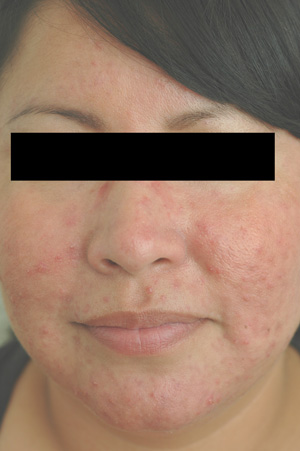 Los Angeles Rosacea Before and After Pictures.
Within two weeks, we were able to quiet her skin down (see the photos above). Was it the work of lasers? Partially. However, I give most of the credit to providing our patient with good baseline knowledge of how to care for her skin – something that had not been addressed on numerous visits to her previous practitioners. What the patient does on a daily basis is always far more valuable when combined with what we are able to accomplish on her weekly visits. By equipping her with knowledge and gentle skin care products, we were able to make early progress to bring her skin into a better balance.
Although we recognize the role of many available treatments whether we utilize them or not – we are firm believers that patient education and involvement must always be at the top of any treatment plan. You and your appearance are worth investing in – find a practitioner that believes the same.
Lori Haney, RN, MEP-C
Certified Medical Laser Safety Officer
---