Juvederm Injections | Torrance
Treatment Program | Before and After Pictures | Juvederm Cost
Are you tired of looking tired?  Do your friends or family ask if you're upset about something when you're perfectly content?  It could be that it's time to address one of the more unwelcome changes that comes with aging:  volume loss.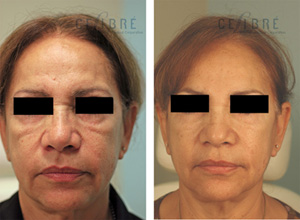 When we are young, our faces are round and full.  Plump cheeks and lips, smooth skin and arched brows are all the trademark symbols of youth.  As we age, we lose volume throughout our face.  Volume lost in the forehead, temples and around the eyes can cause flat brows, frown lines and deep tear troughs.  As we lose the "apples" of our cheeks, folds around the nose and mouth start to appear, almost like our face is literally sliding downwards!  And NO ONE likes thinning lips and those little vertical lines all around our mouth that make lipstick impossible to stay put!
Good news!  The Juvederm family of dermal fillers can help with all these things.  These are FDA approved injectable gels made of hyaluronic acid (HA) that can be used to help restore the volume and full features of your youth.  Because HA is a natural, sugar-like molecule that's already part of our bodies, there is no allergy testing required for Juvederm injections.
HA is a remarkable little molecule that can hold up to 1,000 times its own weight in water, which makes it a heavyweight for adding volume back where it's needed most.  Not only are the results of Juvederm injections immediately visible, they often get better over time as Juvederm Injection attracts more and more water.
So if you are looking for a safe, minimally invasive way to turn back the hands of time and look as good (or better!) as you did 5, 10 or even 15 years ago, then Juvederm is a great choice for you.
What are the Side Effects of Juvederm Injections?
Juvederm is a deeper injection, so while you may have some bruising and swelling after your treatment, they both should last only a few days.  It is perfectly normal to have some redness temporarily as well.  While the results of your Juvederm will be noticeable immediately, you may want to consider having your treatment done at least a week or two prior to any major event, get-together or photography sessions.
Here at Celibre Medical, we encourage you to come meet with us for a free consultation at our Torrance, CA and Orange, CA clinics.  We are here to answer any and all of your questions about Juvederm Injections.  We want you to feel as comfortable and informed about your treatment as you possibly can be, and together, we can help you look as good as you feel.
View more Juvederm before and after pictures
Contact us today to schedule a FREE consultation!     

What is Juvederm?

  Read About Celibre's Facial Shaping Techniques