Are your hands beginning to look like your mom's? Yikes! If you're taking good care of your face, but ignoring your hands, then you need to learn more about what hand rejuvenation can do for you!
Our hands do all the work—and it often shows! Time and sun can make the backs of the hands look bony, hollow and full of veins. Sun spots, wrinkles and thinning of the skin can give away your age in no time, and no matter how good your face looks!
Get back lost volume with dermal filler treatments such as Restylane and Juvederm. Not only will you fill in and plump your hands, your skin will look better too after these types of filler treatments.
If sun damage is an issue, take a minute to read through about how Celibre's laser hand rejuvenation treatments can make a huge difference for your hands. Get back the smooth, clear skin that you had years ago and stop feeling self-conscious about your "mom" hands! Call us today to schedule your free consultation to learn more about what Celibre's hand rejuvenation program can do for you.
The patient below received Restylane Injections to achieve a more youthful appearance and tone to the hands.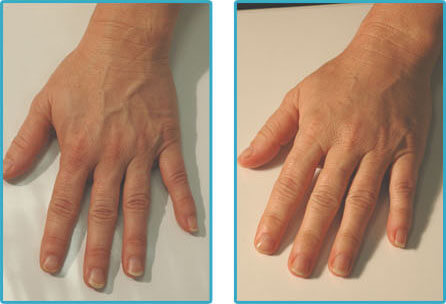 Restylane Injections Before and After Pictures
Return to The Art of Facial Shaping
Contact us today for a FREE consultation!