Treatment | Before and After Pictures | Cost
If you've ever looked in the mirror and wondered, "What's happened to my eyelashes?" you're not alone. Millions of women around the world have discovered an easy, effective and safe solution to have thicker, darker and longer lashes: Latisse.
Latisse is not only the first, but it's also the only FDA approved prescription treatment you can use to get longer, thicker and darker eyelashes. It's made by Allergan, a trusted and proven company that has brought to market many popular cosmetic treatments such as Botox and Juvederm. With daily application and a touch of patience, you can have the eyelashes of your dreams that are worthy of envy.
What is Latisse and How Does it Work?
You might think that Allergan spent years working on a product that could dramatically improve the appearance of eyelashes, but you'd be wrong! Latisse was actually discovered by accident. Allergan also makes medical prescription products in addition to its cosmetic ones. One of these medications is bimatoprost, an eye drop that is used to treat glaucoma. Patients prescribed bimatoprost started telling their doctors about the changes they were seeing in their eyelashes after using it for a few months. And the doctors could see the difference too! Allergan wisely saw a unique opportunity to develop a sorely needed cosmetic treatment for those with scant or inadequate eyelashes, and Latisse was born.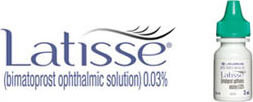 Now, women who've never had lush lashes are enjoying the benefits of beautiful, thicker lashes and those whose lashes have lost their former lushness are regaining it plus some! Latisse is a serum that is applied with a special applicator to the upper lash line every night before bed. It helps lengthen the growth cycle of the lash hair, which allows the lashes to grow longer and thicker. It also helps to darken the lashes as well.
Most women see some effect within a few weeks of starting Latisse, but the full effect can take up to 16 weeks to see. And you have to continue to use Latisse to keep the results otherwise your lashes will be back to normal in about eight weeks or so.
Have you done eyelash extensions, but hate the maintenance? Pricey mascara not giving you the look you want? Try Latisse! You too can have lashes that look date-night-ready right out of bed in the morning! Swimming, sweating, crying – no matter what the activity, your lashes will look great 24 hours a day.
Give us a call today. We'd love to talk to you more about what Latisse can do for you and answer all of your questions at a free consultation. Don't wait another day to start this amazing product!

View more Latisse before and after photos
Contact us today to schedule a FREE Latisse consultation!