Overview | Treatment Program | Before/After Pictures | Cost
Get rid of tattoos with safe, effective laser treatments from Celibre Medical.  At Celibre, a Southern California leader in laser dermatology, we've helped many individuals eliminate tattoos and restore the original look of the skin.
Depending on their size and color, it can take between 3-15 laser treatments to completely get rid of tattoos, with some colors presenting an especially difficult challenge. However, our laser equipment is able to successful break apart any tattoo ink, resulting in the permanent and thorough removal of the tattoo.
Celibre has extensive experience in helping people successfully get rid of tattoos.  Many who wish to reverse tattoo body art had them placed at an early age and express regret in adulthood.  For those of you in this situation, there is hope. Lasers are highly effective at breaking apart ink for all colors and in all skin types.
If you wish to get rid of tattoos, contacting us for a free consultation.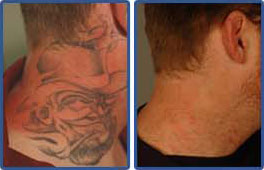 Contact us today to schedule a FREE Tattoo Laser Removal consultation!