Overview | Treatment | Before and After Pictures
Radiesse is relatively thick dermal filler when compared to Restylane, Juvederm and Perlane. This is one of the reasons that it lasts longer. It is also one of the reasons why it can be used more easily than the others in the jowls.
Because of the thick consistency, Radiesse is easier to "mold" into of the face. In the area where the lower cheek meets the jawbone, we often see saggy skin later in life. This saggy skin causes a small marble sized bump of flesh on the side of the jawbone. Using Radiesse, we can smooth the transition from the lower cheek to the chin area, thereby hiding the appearance of the jowls.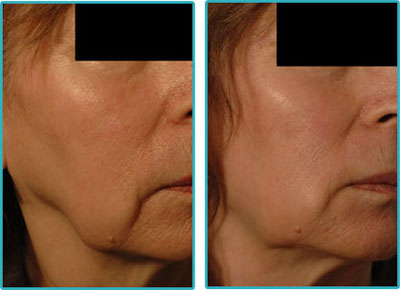 Radiesse Injections to improve the appearance of the jowls

Read About Celibre's Facial Shaping Techniques

Contact us today to schedule a FREE Radiesse Injections consultation!

Visit our Radiesse injections before and after photo gallery and see the results that were achieved after Radiesse Treatment.