Overview | Treatment | Before and After Pictures | Cost
There are many different treatment options for acne scars. There are also many different types of acne scars. Laser resurfacing and injections, like Restylane, are both good options for acne scar treatments.
When using injection products such as Restylane for acne scars, we use a technique called subcision. Subcision for acne scars involves using the needle attached to the Restylane syringe to poke through and release the hard scar tissue beneath the skin. The Restylane is then placed in the void where the scar tissue was released. The effect is that the scar is raised from its previous position so that it does not look indented.
Subcision is most effective for rolling acne scars that have a larger surface area. They are most often dime or quarter sized indented areas in the cheeks that, in many cases, are caused by deep cystic acne. With large, deep rolling acne scars, the scar tissue often feels hard beneath the surface of the skin before the procedure. Once the scar tissue is released and the Restylane placed, the area looks and feels much smoother.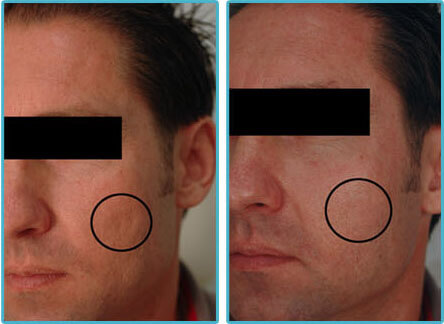 Subcision is a procedure that needs to be performed repeatedly over a period of months or years for it to work well. The repeated cutting action of the needle at the base of the acne scars over several treatments helps to release the hard fibrous tissue below the indented acne scars. Using the Restylane to create a void below the acne scar allows the skin to fill in this void with new collagen and elastin as the Restylane breaks down lifting the scar slowly over a period of months or years.
When you come in for your free consultation, our knowledgeable, professional and courteous medical staff will be available to answer all your acne scar treatment questions and will help you select the best program for you. Call now or come to one of our conveniently located offices for a free consultation.
Contact us today to schedule a FREE Restylane Injections consultation!