We have many patients like you seeking help for their acne scars. They want to see scars gone and gone fast. We understand. Living with the emotional pain of acne scarring is difficult and we are truly passionate about providing treatments for our patients that are highly effective and tailored for their lifestyles and budgets. Having said all that, it's difficult for us to give hard and fast numbers on laser treatment of acne scarring, because each case is different. If you're reading this article, it should be used as a ballpark reference for the number of treatments, not the definitive rule.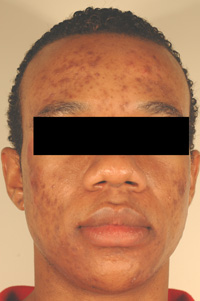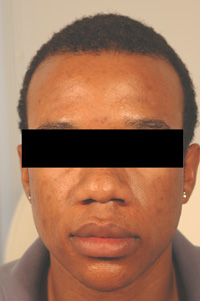 The first factor to consider is what type of acne scarring you have. Acne scars typically fall into one of two categories: pigmented or textured. Some people have only one or the other and some have both.
Pigmented acne scars are different shades of brown, red or both. Brown and red scars can both be treated with lasers, but they each require a different type of laser since they stem from different sources. Both brown and red acne scarring is dramatically better after four to six laser treatments (respectively).
Textured acne scars affect the smoothness of your skin. This type can be a bit tricky to treat depending on your skin type (color or your skin) and the severity of your scarring. The type of laser procedure that is used to treat textured acne scars is laser resurfacing. Laser resurfacing can be one of two different types: ablative or non-ablative resurfacing.
Non-ablative laser resurfacing can be done on any color of skin, so it is safe for anyone. This procedure works by delivering heat energy beneath the skin's surface without damaging or removing any skin. There is no downtime (recovery) associated with non-ablative resurfacing, and it works best for someone with mild to moderate textured acne scarring. Most patients will need a minimum of six non-ablative laser resurfacing procedures to see improvement of their textured acne scarring.
Ablative fractional laser resurfacing is a more aggressive treatment that works better for severe scarring. Patients who have ablative laser resurfacing will need to recover at home for a few days after their treatment. Most patients requiring this type of treatment will need an average of two – three procedures see dramatic improvement. If you have severe textured acne scarring, you many need more than three treatments.
If you're asking when is the best time to address your acne scarring, we will tell you that there is no time like the present. We have found (and research has shown) that the earlier you deal with acne scarring, the better it tends to respond to treatment and the happier you are with your results.
---