Because keloid scars have a very dense, tough, and fibrous texture, treatments are aimed at improvement rather than complete removal. If a person's body has a tendency to form keloid scars, aggressive treatments should be avoided as this can make the situation worse.
Current laser technology allows us to fade or completely resolve the color of some keloids. For those that are red in color, pulsed dye lasers work well to decrease the bulk of the scar as well as fade the red color. Unfortunately, revising the color of Brown keloids can be difficult.
Find out more about the keloid scar removal treatments by Celibre Medical – celibre.com/scars.
Schedule your free consultation for keloid scar treatments at www.celibre.com/contact-list.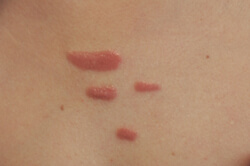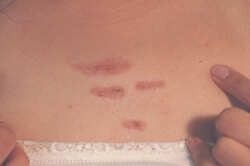 Keloid scar removal by Celibre Medical, Los Angeles and Orange County, California.
More Los Angeles scar removal before and after photos by Celibre Medical at celibre.com/scars-laser-removal-before-after-pictures-photos.
Some keloid scar patients are able to accelerate and improve the result using steroid injections into the scars while alternating in between with laser treatments. Although steroid injections can sometimes help with the size of the keloid scar, they will not affect the color.
Lori Haney, RN, MEP-C
Certified Medical Laser Safety Officer
---