If you're pregnant or recently delivered a baby, congratulations! You've seen and felt a lot of changes with your body since you first found out you were pregnant. And while you wouldn't trade anything for that sweet, little baby that's either in your life or about to be, we're sure you've welcomed some of those changes a lot less than others. One of the biggest concerns for new moms or moms-to-be are stretch marks. These happen when your skin is stretched by your growing baby faster than it can keep up with. There's no single, sure-fire way to predict who will have stretch marks with pregnancy and who won't, but research suggests that you may be pre-programmed to get them from the many hormonal changes that occur with pregnancy and nursing.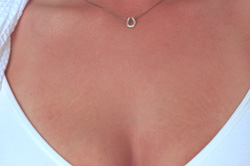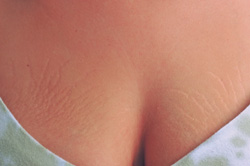 As anxious as you are to get your pre-baby body back, Celibre Medical recommends holding off on having any laser treatments on your stretch marks until you're done nursing. Lasers and hormonal changes are not a good mix, and some women may either have no response to treatment or have an exaggerated or hypersensitive response to the lasers which can make things worse.
In fact, we often discuss waiting to treat stretch marks with lasers until you've totally completed your childbearing as they can return during subsequent pregnancies. Our commitment to you is to provide you with the safest and most effective laser treatments possible and we wouldn't be doing that if we treated you during your pregnancy, while you were nursing or didn't discuss the recurrence rate of stretch marks with you.
But don't worry! We promise we're not going anywhere! We will be here, happy to treat you when you are ready!
---