Although all current research indicates that laser treatments for stretch marks are safe for those that are pregnant or breastfeeding, most concerned, cautious practitioners will not perform lasers treatments on pregnant or lactating women. We agree with this standard of practice and always err on the side of safety and caution.
 The Celibre Medical Los Angeles Stretch Mark Removal program, click here.
Schedule a free consultation for Laser Stretch Mark removal Los Angeles at www.celibre.com/contact-list.
Laser stretch mark treatments by Celibre Medical, Los Angeles and Orange County, CA.
More Celibre Medical Los Angeles Stretch Mark removal photos at www.celibre.com/stretch.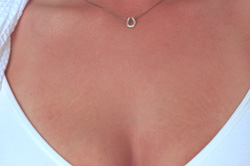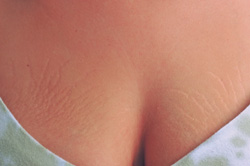 Besides any safety issues, the other reason for not treating pregnant or lactating patients with lasers is because hormonal levels are extremely high during these periods. Such high and fluctuating levels of hormones may make the laser treatments less effective, or patients may become hypersensitive to the laser treatments. If a woman is prone to stretch marks related to pregnancy, it may be advised to consider laser treatments until after further pregnancies are not being considered. Current research suggests that hormonal levels influence whether or not a person will be more predisposed to stretch marks. This is further reason not to undergo laser treatments until the issues of further pregnancies or breastfeeding is resolved.
Lori Haney, RN, MEP-C
Certified Medical Laser Safety Officer
---