Birthmark Removal Requires Specific Laser Technology
Laser birthmark removal can be effective if the correct technology (laser) is utilized. Birthmarks come in various shapes, sizes, and colors. It is because of these factors that there is some unpredictability in the outcomes for laser birthmark treatment.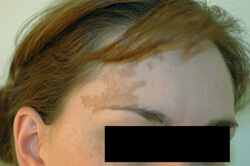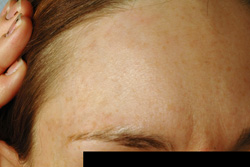 Although most patients are satisfied with the expectation of moderate to significant fading, many of the birthmarks we treat resolve completely. Even when completely removed, these lesions have the ability to return, especially in the case of heavy and repeated sun exposure. We typically set the expectation that pigmented birthmarks (cafe-au-lait etc.) can be resolved in 3-5 treatments and vascular birthmarks (port wine stains) will take more, usually 6-10 treatments.
Q-switched Lasers for Brown Birthmarks
The correct laser for treating birthmarks is crucial. For brown pigmented birthmarks, the Q-Switched lasers are proven to be the most effective. We currently have two different Q-Switched YAG lasers that have been provide excellent outcomes for cafe au lait birthmarks. These lasers are safe for all skin types.
Pulsed Dye Lasers for Red Birthmarks
For red birthmarks (port wine stains), we use the pulsed dye laser.
Experience Matters
When doing your research, find a practitioner that has experience in successfully removing birthmarks, has the appropriate laser for the type of birthmark you have, is knowledgeable about your skin type, and will provide realistic expectations.
---