Although lasers are able to effectively treat the sun damage associated with poikiloderma, there is no guarantee that future signs and symptoms won't return. The issue of whether or not poikiloderma returns is largely up to the patient as in most cases, it is caused by over exposure to the sun.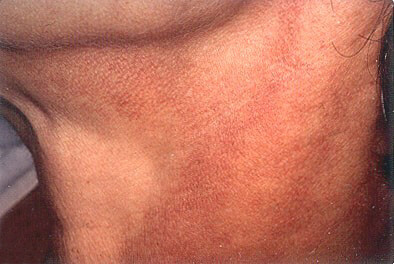 Poikiloderm photo (courtsey of eMedicine).
However, class IV medical lasers are capable of permanently destroying existing pigment such as the red and brown discoloration associated with sun damage. The goal in maintaining good outcomes is to prevent and protect with measures such as diligent sunscreen use to the neck and chest areas.
---