Warts (aka: verrucae) are a frustrating and stubborn condition that may affect any part of the body but are most commonly found on the hands, feet and face. Because warts are a product of a virus, there is no cure. The goal is to control and/or resolve the current lesions rather than preventing future warts from occurring.
Facial warts (verrucae) are often misdiagnosed as acne papules. They are usually found in young people and appear as pinkish/brown, flat papules that are 1-3mm in diameter. They are discrete, scattered irregularly or distributed in groups. Linear patterns are also common. Most patients will report a rather sudden appearance of these lesions that are stubborn and resistant to typical acne treatments and medications.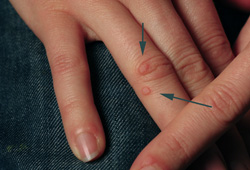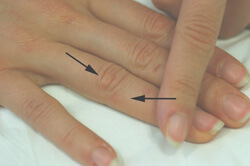 Traditional therapies for wart removal include cryotherapy, topical salicylic acid preparations, surgical removal, and a variety of oils and ointments claiming to "cure" warts. Cryotherapy (freezing off the lesions) is quite painful and often leads to blistering and scarring. Over the counter preparations are expensive, messy, and usually lead to disappointing results.
An alternative to the above wart treatments (or in addition to) is the use of class IV medical lasers – specifically, pulsed dye lasers. This laser technology targets the blood vessels "feeding" the warts, closing them to cut off blood flow. Laser energy also destroys the virus in the lesions. Laser wart removal involves minimal discomfort, can be completed in twenty minutes and is safe and appropriate for most skin types. Although it is difficult to predict how many treatments will be needed for optimal results, most patients will see progress after the third laser treatment.
There are very few randomized, controlled studies that compare traditional treatments with pulsed dye lasers or a combination of both. However, those that are knowledgeable with the many uses of lasers, will attest to the benefits of pulsed dye laser treatments for moderate to good outcomes for wart removal.
---