If we divide the aging face into thirds, we can see how the lower third of the face becomes affected by the agin process as we lose volume and the support structures change. The loss of volume and support around the mouth allows for folds such as laugh lines (nasolabial folds) or marionette lines around the mouth to develop.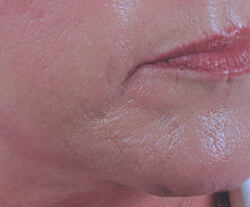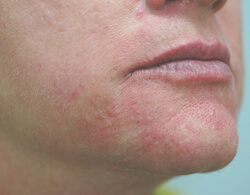 Another area that is affected but often overlooked is the chin. Pockets of hollowness can develop at the sides of the chin where volume is lost. This is also associated with a pulling in of the corners of the mouth as well as a thinning of the lips. The horizontal line across the chin and below the lower lip can crease causing a harsh appearance rather than a soft, rounded look for the chin.
By using dermal cosmetic fillers such as Restylane or Juvederm, we are able to add structural support at key locations so as to redefine the corners of the mouth and lower lip and to add volume to the sides of the chin. Softening the horizontal line across above the chin is an excellent way to compliment chin shaping with the use of dermal fillers.
Read About All Celibre's Facial Shaping Techniques
Chin Rejuvenation with Restylane Injections, celibre.com/restylane. Schedule a FREE Los Angeles Restylane Injection consultation for chin rejuvenation, www.celibre.com/contact-list.
More Restylane Los Angleles before and after pictures at celibre.com/restylane-injections-before-after-pictures-photos.
Lori Haney, RN, MEP-C
Certified Medical Laser Safety Officer
---