If you have poikiloderma, you are used to wearing scarves, turtlenecks and collared shirts to hide it. It causes embarrassing red and brown, blotchy discoloration on the sides of the neck and chest. Laser treatment can be an effective way to improve or eliminate your poikiloderma once and for all!
Here at Celibre Medical, we've treated many patients with poikiloderma with our class IV medical lasers and BBL (IPL) and had outstanding results. The key to your success is understanding that a series of treatments will be necessary. We usually perform treatments every four weeks. We also offer more advanced, aggressive laser treatments for poikiloderma, but these aren't for everyone. These may be the right choice for you if you have the right skin type (color) and you're looking for more dramatic results in a shorter time frame.
The last piece of the puzzle is proper skin care following your laser treatments. Remember, sun damage is what causes poikiloderma in the first place; sun protection will help keep your skin looking its best after treatment. Use a good, broad spectrum sunscreen on your neck and chest every day!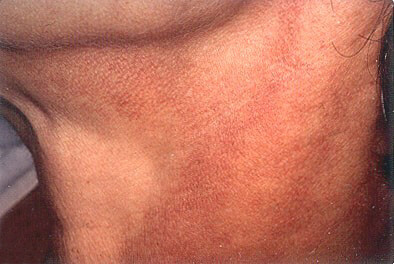 Poikiloderma photo (courtesy of eMedicine)
---