Your Hands Show Your Age
Most of us are familar with the saying, "You can tell a woman's age by her hands." This is mostly attributed to the fact that women take great measures to care for their face, but often ignore the hands. Many consumers also do not know the options that exist for hand rejuvenation.
Why do My Hands Look Old?
So what makes the hands show their age? Loss of fatty tissue and collagen as we age causes the hands to reveal the bones and veins. Years of sun exposure reveal a roughened texture and brown spots (sun spots, solar lengtigines, seborrheic keratosis) become more numerous.
It is not unusual for these conditions appear rapidly, and we often hear women say, "Why is this all happening now?" Years of bad skin care habits, genetics, and aging all catch up with us at some point. Hand rejuvenation is the process of reversing the common signs of aging hands.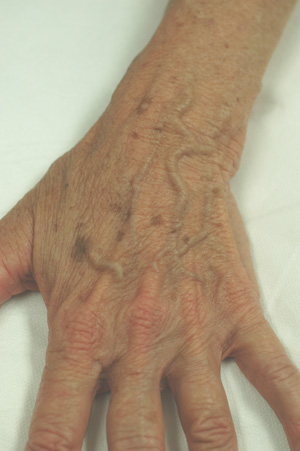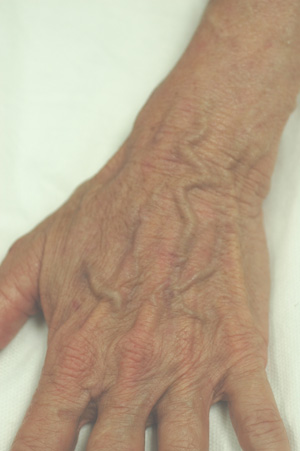 Removing Brown Spots
We achieve excellent results using Q-Switched laser technology to remove brown spots from the hands. These powerful lasers work by removing brown pigmentation, and at the same time the develop heat that promotes collagen stimulation and mild skin tightening. There is no downtime, and the treatments take only a few minutes. This same laser technology also works well for face, chest and leg spots.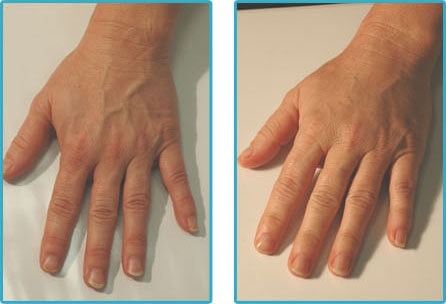 Adding Volume
For the loss of volume in the hands, we use dermal fillers such as Restylane and Radiesse to minimize the "ropey" looked caused by thinning skin. Treating voids between veins and ligaments on the back of the hands is a job well suited for dermal fillers.
Fillers have an immediate impact, making hands look younger by creating a plump and youthful appearance. These injection benefits are immediate and continue to improve over a two week period after injections. Results typically last for a minimum of six months.
Sclerotherapy Injections
In addition to removing brown spots and adding volume, we have one other tool in our kit for creating more youthful hands. Sclerotherapy injections with Asclera can close some of the more visible blood vessels on the back of the hand without affecting proper circulation. This procedure is used in combination with Radiesse injections to hide bulging, ropey veins.
Multiple Hand Rejuvenation Solutions
Regardless of whether you have brown spots, visible veins or thin, frail looking hands, we can help rejuvenate them with lasers and injections.
---