If you're tired of looking tired under your eyes, maybe it's time to do something about it. Surgery isn't always the only option; in fact, for many people with under-eye hollowing or bags, treatment with injectable dermal fillers can provide dramatic and long-lasting improvement and may be a better choice.  Here's why:
As we age, the delicate, thin skin around the eye thins even more. We lose precious collagen which triggers the changes of darkness and wrinkling. Time also causes the normal fat that surrounds the eyeball to push through the circular muscle that surrounds the eye, making the lower eyelids look swollen and puffy. Losing volume in the middle part of the face (the cheeks and cheekbones) can also cause the eyes to look aged by accentuating these changes and making the groove or tear trough beneath the eye more prominent.
Restylane is an excellent hyaluronic acid (HA) filler that can be used to correct and camouflage these unwanted changes. It stimulates the production of collagen in the skin, replaces volume for indentations and helps smooth the transition between a bulging fat pad in the lower lid and the cheek. At Celibre Medical, Restylane is our number one product to use for under-eye bags.
To give you a better idea of what Restylane can do for the eyes, please look at our patient's photos below. This gentleman could have also chosen under eye surgery, as he has quite a bit of excess skin beneath his eyes. He opted instead for Restylane injections because he wanted immediate results and he didn't mind the thought of re-treatment in the future. Restylane, coupled with the right injection techniques, gave him some very nice results that he was very pleased with. As you can see, it is possible to achieve dramatic change with a non-surgical approach.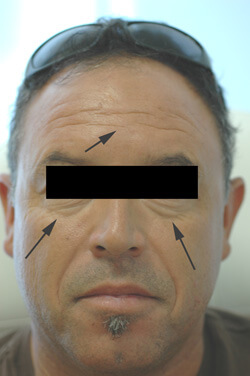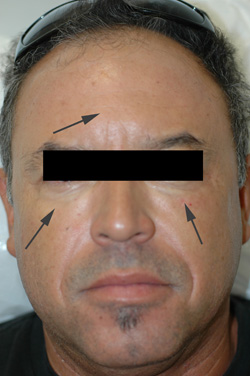 Injection Technique Matters for Under Eye Injections
While the skill and technique of your injector is important regardless of the area being treated, we feel it is important to say that proper technique is essential when using dermal filler injections beneath the eyes. It can be the difference between you looking worse and looking amazing afterwards!
Injectors at Celibre are all highly trained and experienced in injection techniques that place the filler product "under the muscle" when treating the area beneath the eye. This technique ensures that your filler looks smooth and natural. When done improperly in the incorrect plane of tissue around the eye, dermal HA fillers can bruise severely and look uneven and lumpy.
Make sure to discuss the experience of your injector as well as the techniques that will be used for your under-eye filler before treatment. Before and after photos can help you gauge the skill of your injector as well as help you understand what this treatment can and can't do for you.
---