We've all heard the saying, "Too much of a good thing can be bad." When it comes to Botox injections in your forehead, this is very, very true. Not simply the number of injections into the forehead muscle, but the amount of Botox that's injected.
Unlike some other areas of the face, where pretty much everyone is safe with the same (or roughly the same), Botox dose, an injector really must know his or her stuff when it comes to treating a forehead. Why? Because very literally, no two are alike!
Your forehead muscle, the frontalis, is a large, horizontal, sheet-like muscle. When it contracts, it pulls your eyebrows up, towards your hairline (think: surprise!!).  Some are more rectangular while others are more "V"-shaped.  Some are very tall (large forehead) while others are short. In addition, everyone has a slightly different contraction pattern of their forehead.  This means that while one person may raise their eyebrows and have a single line across their forehead, someone else can have 10 or more lines when they do the same movement!  When you also factor in gender (muscle mass), ethnicity, age, and each patient's individual goals for what they want their results to look like, it's easy to see how treating the forehead with Botox is anything but easy.
Too much Botox in the forehead means a "frozen" look. Some patients like this, and some younger patients may even look good this way! But for many in our late thirties and beyond, a frozen forehead is bad. Our eyebrows naturally lower over time as we get older. This, in turn, pushes our upper eyelid skin down towards our eyes. Many people may even unconsciously raise their eyebrows to help them see better. So, when you take away someone's ability to look surprised with Botox, it may look bad, or even impair their field of vision!
Too little Botox or poor injection technique can lead to an asymmetric brow raise, "peaked" eyebrows (think Dr. Spock), or lead to a less than optimal result. The only upside to this is that it can be added to and fixed, whereas too much simply has to wear off over time!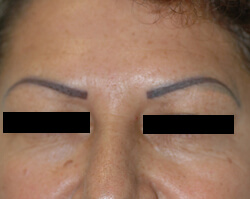 THIS IS NOT A CELIBRE MEDICAL PATIENT. THIS PATIENT WAS INJECTED BY ANOTHER PHYSICIAN AT ANOTHER PRACTICE WITH 50 UNITS OF BOTOX IN HER FOREHEAD. HER RESULT SHOWS BOTH EYEBROW AND EYELID DROOPING (PTOSIS).
This patient came to Celibre Medical after being injected with 50 units of Botox into her forehead by a physician at another practice. While her forehead lines were gone, her brows and eyelids had an extremely heavy, tired look and she was very unhappy.
At Celibre Medical, our forehead doses of Botox are generally 20 units or less. Again, every forehead is different; some may take more – some less. But the overall goal is to keep the eyebrows in the same position or raise them a bit by using a technique called the Botox Brow lift.  We work with you to give you the smoothing effect you want, while providing the most natural, beautiful results possible! View some of our Botox brow lift before and after pictures.
---