When it comes down to it, we know that you have many choices when it comes to laser practices. And we also know that it's the knowledge, skill and expertise of the laser practitioners and the breadth of technology that sets one practice apart from another. That's why we've invested an enormous amount of time, energy and financial resources in finding the very best devices and placed them in the most capable hands to provide you with an array of treatment options that not only give you superior results, but that fit your lifestyle and budget too.
Patients like you want to know what we consider to be the top three lasers for resurfacing. Here's our list and why we like these devices:
The CO2 laser: Even though this technology was the first to come out in this category, it is still considered to be the "gold standard" for resurfacing. There is no arguing the fact that in just a single treatment, CO2 laser resurfacing can produce dramatic and impressive results. However, there are a couple of drawbacks with this laser. First, you can't have resurfacing with it if you have a medium or darker skin tone. In an area with a diverse patient population like Los Angeles, this makes it a less-than-ideal device. Second, the downtime after CO2 laser resurfacing is intense. Weeks of healing are involved, followed by weeks of redness. We've also seen many cases of prolonged facial swelling as well. Most people with busy lives simply can't take this kind of time away, no matter how impressive the results may be!
Fractionated laser technology: "Fractional" lasers are not a specific brand of laser, but rather a specific way of delivering the laser's energy. A fractional device only treats a portion of the skin's surface, unlike the CO2 and erbium devices which remove the entire skin surface down to different depths. Both CO2 and erbium devices can be fractionated, which speeds the healing time.
The erbium MicroLaser Peel: Although this device isn't as powerful as the CO2 laser, it still can generate some impressive results. We use this device because in our hands, a series of three of these treatments can yield similar results to a single fractionated treatment. The benefits also include more predictable and tolerable downtimes (i.e. fewer complications) which we've found our patients need given their busy lifestyles.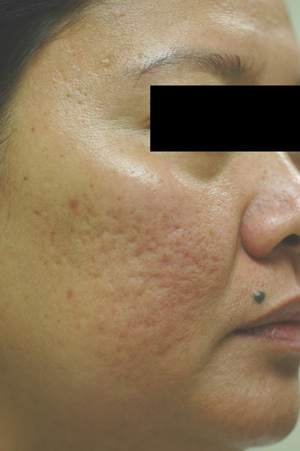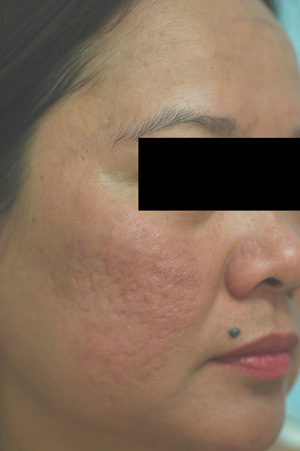 Erbium Laser Resurfacing Before and After Photos
---