If you're seeing spots, it may be time to see a doctor. We're not talking about an eye specialist, but a skin and laser practitioner. Many people mistakenly think that they develop spots on their skin (age spots, sun spots, freckles, moles, liver spots, etc.) only when they get older. The truth is that the sun damage and exposure from years past, even childhood, can show up as unwanted brown spots on your skin as an adult.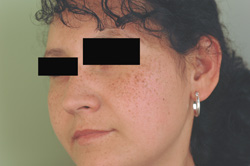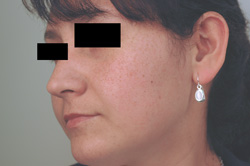 So, what can help? Class IV medical lasers are an extremely effective way to get rid of unwanted age spots because they can specifically target the melanin or pigmented cells within them. If you've noticed a change in the quality of your skin (rougher, thicker , etc.) along with your spots, you're not dreaming. These changes often accompany the appearance of spots due to years of accumulated UV damage. Fortunately, Class IV medical lasers can stimulate the production of new collagen which can dramatically improve overall texture and tightness.
Laser treatments for these conditions are relatively quick and painless—usually around 30 minutes. Best of all, they have a limited recovery, so you can get right back to your life afterward. Our q-switched lasers for brown spots are safe for  all skin types (colors) so anyone is a candidate for treatment.
If you're tired of seeing spots, come and see us today. We'll not only help your skin look clearer, but we can help it look smoother and tighter too.
Sun spot removal before and after pictures
---