If you have embarrassing stretch marks on your tummy from a sudden weight gain or after pregnancy, then you've probably asked yourself this question. But you might be surprised to learn that not everyone is a candidate for a tummy tuck. Even when a tummy tuck is an option, it may not completely remove your stretch marks.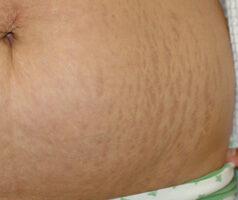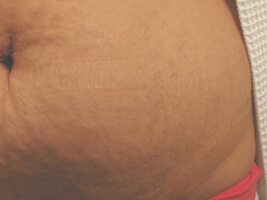 A surgical tummy tuck requires that you have enough excess skin and tissue in the abdomen area for it to be removed surgically. Some women just don't have enough of this "excess" to take off, but they still have tummy stretch marks that they want treated. If this sounds like you, then you may be better off with laser stretch mark removal.
If you do have enough skin and excess tissue for a tummy tuck, the surgery may not completely remove all the skin that has stretch marks on it. A tummy tuck removes skin/tissue from the lower abdomen and then pulls the skin around the belly button downward.  If your stretch are above the level of your belly button, they will likely remain visible after surgery.  This is very important to consider if you thought your surgery would just "take care of everything". It isn't always the case!
If you just don't want to have surgery or can't for various reasons, then your only option is laser treatment. And some patients benefit from both a surgical approach followed by laser treatment. There is no one-size-fits-all plan for everyone!
We think it's important to consider all the possible scenarios for stretch mark removal.  Both surgery and laser treatments may be options to consider for you.
---